New Age Interactive Bar Experience
Butterflies sit on your hand while you sip on your favorite drink. A flowing water illusion allows you to create ripples in the water. Aren't these the experiences that you would like to see during your next visit to a club on Saturday night?

An immersive experience like none other, the Interactive Bar technology by TouchMagix™ will transform a typical night out at the bar.
Creates a communicative bar experience for your patrons.
Creates an ambient atmosphere with cool gesture-based virtua limpressions on the bar-top.
Can be customised asper the length, width and shape of your bar, as well as the desired interactive experience that you wish to setup.
How does it work?
Integrated video-projectors projec to any content on the milky bar-surface.

These projectors can be fitted either overhead the bar for top projection and motion detection, or below the bar for bottom projection and motion detection.

The intelligent tracking system of the Interactive Bar detects all objects touching the surface.

This input is used to let the projected content interact dynamically with the movements of your patrons on the counter.

Objects can be illuminated at their position or virtual objects can be interacted with the hands.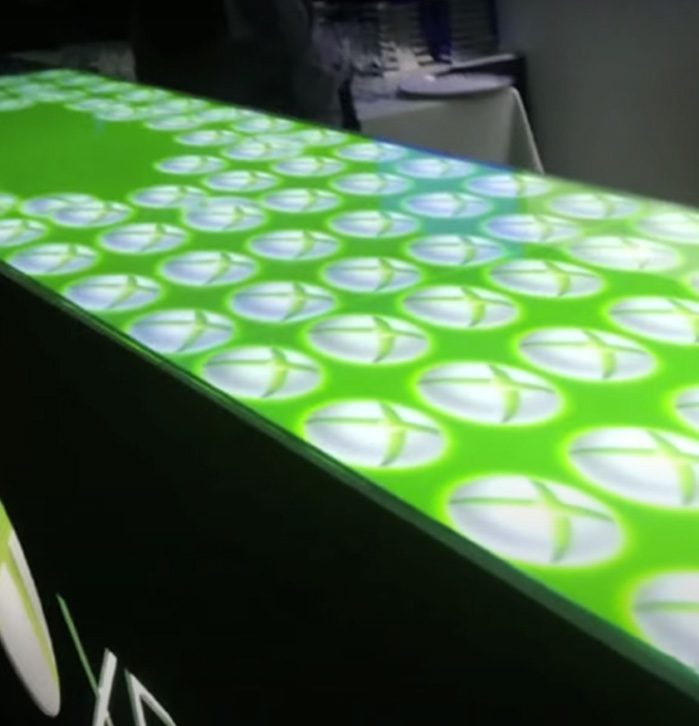 Where can it be installed?
Bottom Projection, Bottom Detection
Top Projection, Top Detection
The Interactive Bar can be installed across any hospitality venue such as bars, corporate events and expos as a tool to give its customers an avenue to engage and interact amongst themselves through next-genmotion and gesture technology.
The state-of-the-art features of the Interactive Bar not only engage the audience, but create a memorable experience
Templates & Customisations
The Interactive Bar has a library of ready-made effects for projecting on the bar surface.

These effects can be easily customised with respect to the images projected and their backgrounds.
Watch MotionMagix in action!
Get Quote | Interactive Bar
Get Quote for Games and Products